So, you want to lay a trail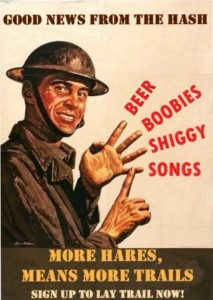 Fantastic.  We need hares, otherwise we don't have trail.
Check out our Upcumming Runs and contact Mismanagement claim an available date (or about a date not on the list).
Hashing may not have any rules, but we have some strong suggestions for haring.  After all, we totally will judge you based on the trail you lay (by the way, you're trail will be shitty).
General Trail Information
Virgins Hares must work with an experienced hare for their Virgin Lay
Trails are generally 2-5 miles long, with at least one or two beer checks.  General rule of thumb is the hare can hike true trail in about an hour (checks, false trails, beer checks, and general dickery will ensure the pack takes longer than that to run trail).  Remember, trail can never be too short or have too much beer.  If it's 98 degrees with 90% humidity, we're not going to mind a shorter trail.
Avoid long, unbroken straightaways.  We're not looking for a r*ce.
Spring – Fall we tend to run on alternating Mondays at 6:30, Fall – Spring we tend to run mid-day on the weekends.
It is the hare's responsibility to secure the necessary materials for trail (though borrowing is completely fine).  The hare will be reimbursed for the cost of trail (beer/ice, flour, tags, etc) out of the hash cash collected at trail, so budget accordingly.
Discretion is the better part of valor.  Or more specifically, drinking in public isn't legal, and we'd rather not come under law enforcement scrutiny.
Scouting Trail
Make sure to actually scout the trail on foot!  Driving through an area or relying only on Google Maps makes for rude surprises for both hare and pack.
True trail should take you an hour to an hour and a half to walk – the pack may (mostly) run trail, but checks, false trails, and beer add on time.
Look for interesting features, good places for checks, and good locations for beer checks.
Investigate parking options, we are not blessed with an extensive public transit system, so the pack needs somewhere to put their cars close to start.
Aim for an A to A trail, or A to A' (end point within a quarter mile of start).  If you lay an A to B trail you are responsible for ensuring the pack gets back to their cars.
Posting Detrails
Details should be posted to the mailing list by Wednesday before trail, as well as anywhere else you see fit.  Mismanagement will update the website (worthwhile to let us know how much of your contact information to put on the website).
Detrails should include:
Hares:
Where:
When:
Hash Cash:
What to Bring: cranium lamp, bug spray, bathing suit, suitcase full of unmarked $20s, etc…
About Trail: A to A, heavy shiggy, walker friendly option, and other relevant details as needed
Foreplay & After Care
Hares give chalk talk, going over any new or unusual marks, anything important for us to look out for on trail, and generally explaining to us half-minds what we're doing.
Pre-lube isn't required per say, but is generally expected and may help convince the pack to give you a greater cranium start.
Hares are responsible for cleaning up evidence, this includes the beer check and On-In, however feel free to recruit help from the pack.
Laying Trail
We recommend using chalk or colored flour to mark trail.  Carpenter's chalk or Koolaid works well to dye flour, and a little bit goes a long way.  Just use enough so it's not white (and therefore doesn't look like A. anthrax or B. bird shit).  If you use chalk, chose a color that will show up (brown is generally agreed to be a bad choice).
Trail can be Live or Dead lay (or a mix of the two), but Live is generally more fun for everyone.
Checks are great for keeping the pack together, not just for changing direction.
Avoid looping back on trail!  Looping back on trail can lead to confusion, and is less spontaneous for the pack since they're on recycled trail.
We are all Half-Minds, don't expect us to remember fancy checks.
Mark well.  In shiggy you'll have to use more marks than on assfault.  The next mark should conceivably be visible from the one you're at.  Regularly obfuscated marks will lead to a disgruntled pack.