Hash Trash from 2017
HVH3 #337
Date:  15 January 2017
Hares:  Not Enough Fingers & Dead Swedes
Pack:  Just Shannon, Tasty Topple, Jenny Cougar Meloncans, Virgin MaryJo, Emergency Medical Tits, Butterknife Bukake, Just Hannah, Big Piles
It was a brisk day.  I'm not sure hell was frozen over, but Greenfield sure was cold.   We met at the train station, and had to relatively reserved for the few waves of muggles coming by to catch a train.  The hares fled the pack almost as soon as Tasty & Just Shannon arrived, so they missed the opening ceremonies which were bigger than huge, they were YUGE, don't let anyone tell you any different.
After introductions, a brief chalk talk that included a few new marks, like the "penguin check" (huddle together to keep warm), and a "CL" – conga line (please don't tell me I have to describe that).  Just as planned Unfortunately, the chalk talk left our virgin more confused than enlightened, and from there, the pack meandered off.   Up the hill, around a few neighborhoods, we followed the trail, receiving a few weird looks from residents and passersby alike (obviously, we were doing hashing right).  We encountered some truly puzzling marks that were NOT included in the chalk talk, for which the hares would subsequently drink profusely.  Just Hannah got a great video of us doing a conga line across a street, which shockingly didn't piss off the waiting motorists (The conga line, not the video).
The first beer check was located in the middle of a parking lot somewhere, but perhaps most importantly included Swedish fish.  Lots of Swedish fish.  (Side note:  next time, we should soak them in vodka.)   Trail after this check became more than a little muddled, tracking through town and next to a sex toy shop for a photo shop.  After the photos, perhaps distracted by the sight of so many buzzing pleasurable things, we lost the trail.  I mean, really, lost the trail.  We ran across a street, up and down a street, across a parking lot following salt marks that we mistook for hash marks, we ran around the same block so many times I lost count, and eventually, somehow, found the trail.
We had a great photo op on the kid's train, and eventually caught up with the hares at the Victoria Bar for a beer check.  Somehow we weren't told (or some of us missed the memo) that we were supposed to have ID with us, and we almost didn't get served, but Just Shannon pulled rank with the owner and managed to get us all drunk drinks.  It was revealed that we totally missed the penguin check somewhere when we were buzzed from the sex toy shop.  (Get it?? Buzzed.  God, I crack myself up.) We also discovered that we had missed a bottle of Fireball somewhere behind a church, and EMT and BB bravely volunteered to go rescue said bottle.  After warming up in the bar, we sadly had to go back out into the cold, and we all made our way back to the train station.
Closing circle Included such accusations as nerd names (Jenny CM), Bizarre marks by the hares (Just Hannah has pictures), Tech on trail (can't remember who), FBI (EMT), DFL (BB) and various other infractions.  I had too much to drink and didn't write them down, so who knows what they were.  Virgin Mary (Jo) popped her cherry, and is now Just MaryJo.  Luckily, she knows what the hardest part is.  (This is a random note in my notebook.  I have absolutely no clue what it refers to, but it seemed a shame to exclude a sex joke made by a virgin.)
We had a naming.  Just Shannon is now a named hasher.  We discovered her first time was on a playground, her most embarrassing sexual moment was farting during sex, her favorite liquor is Cap't Morgan, her least favorite kid's show is Barney (duh!), she'd totally do someone named Kim, her freebie list includes: Gerard Butler, Liam Neeson, Sean Connery and said Kim.   Her wildest fantasy basically includes a gang bang with everyone on her freebie list.  She works at an oral surgery center.  Her most memorable moment on trail included showing everyone her ass at the Hot L.  Her breasts are like the last two marbles in a bag.  There were other things, but my notes make no sense, so I'll leave them out.  Included in the proposed name list were Kim's Bitch, Oral Shag, Up Barney's Ass, Marbles at the Ready, and Ready Position.  All were cast aside in favor of International Oral Coordinator, 0069.  (Pronounced Double Oh 69 of course).
On-After found us stuffing our face holes at the Hanger.  Wings yummy.  Drinks good.  Also, warmer than outside.
Respectfully Submitted,
Tasty Topple
PS.  Next scheduled hash:  Cardboard Robot Hash on 5 March 2017.  Detrails to follow.
HVH3 #338 | Cardboard Robot Hash
cockmonkey's log, beerdate 3.5.2017
Start: Stanley Park, Westfield
Hare: Emergency Medical Tits & Butterknife Buczechi
Pack:
From HVH3: cockmonkey, Suckit Wrench, Tasty Topple, Stunt Cock, Dead Swedes, Semen After Ass, Two Minute Ride, and Celene Ding-Dong. Technically also Big Piles, but he showed up at the very end of trail.
From the CVNTs: Jenny Cougar Mellon Cans, Not Enough Fingers, Metro Testitcle, Just Hannah
From NH3: Friar Fuck
Man, we were a fucking sight. A hilarious, awkward, glorious sight.
Also, the weather was amazing. Probably for the best. If it was raining I'm not sure many of our costumes would have stood up against the elements. Some super high quality craftmanship here folks.
Now, we didn't have many actual robot jokes for the joke checks… but watching hashers get out of costume enough to pee was totally a joke in itself.
The first beer check involved climbing up and down off a boardwalk to an island in a field. Which seems like the perfect place for some "public" nudity or illicit activities. Like drinking in public. The second beer check gave us some lovely. And quite possibly some Fireball. The third beer check we saw our hare! Turns out we should have snared her earlier on, when she actually hid in some shrubbery as we all ran by. We are clearly super observant. And stuff.
We finished up trail with feeding the ducks. ALL THE DUCKS. Then had to scurry off and out of the park before we got locked in for the night, leaving us to, in theory, hold circle a the on-after. WHEEE!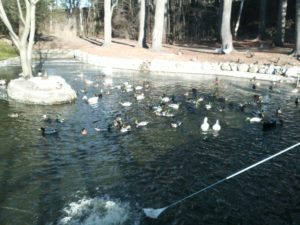 HVH3 #339 | Zombie Jesus #9
(coming soon)
HVH3 #341
Date:  Sunday, July 2, 2017
Hare:  CockMonkey
Pack:  IOC #0069, Tasty Topple, Suckit Wrench (Eager 4 Beaver), Private Pooper the Dog (Did I get the name right?)
It was a hot and humid Sunday afternoon when we met up at the Hampshire College Tennis & Basketball Courts.  We had a small pack with a sick hare, so we knew it was going to be a ridiculously fast slow trail.  It was also Cock Monkey's birthday, so we hope she had an extra shot of Nyquil just to make the day festive.
She went off and the rest of us chatted for a while to give a good cranium start to the sick hare.  Once that time passed, we continued our chatting as we ambled onto the trail.  Initial marks were clear, but then there was an unknown mark that had been partially blown away by the wind.  Song Check?  Back Check with a number we could no longer read?  Plain old check?  Pretty sure it's not a boob check or a dick check since it's right on the main road.
We settled on back check, and after much searching, discovered true trail across the street and into the woods (Isn't there a show about that?).  Once in the woods, we picked up the pace and eventually found the hare waiting for us on a rock in a swimming hole.  Some of us took advantage of the beautiful day and the water and dove in and got even wetter than we already were (sweat, people, get your minds out of the gutter).  Delicious drinks were shared (No idea what they were but there was good drinking on this trail), and the hare hopped off again.
The second beer check was somewhere not too far away.  By this point the previously mentioned Nyquil that may or may not have been ingested by the hare seemed to be wearing off, and we were all hot and tired.  So instead of laying trail, the hare stayed with us and we all pretty much Zen-ed our way back to the parking lot.  (Does it count as Zen-ing if the hare is with you?  Deep questions).
Closing circle was super short.  The hare looked like she was knocking on deaths door, and not in a good way.  (Like, not le petit mort that we all love.)  I'm not sure there were any accusations, or if there were what they were.  Mostly because everything turned in to a group down-down since we were such a small pack.
Anyway, fun was had.  You should have been there.  Thankfully the hare has lived to see another hash.  And another year, since it's her birthday and all.
Respectfully submitted,
Tasty Topple.
HVH3 #342
Hares:  IOC#0069 & Tasty Topple
Pack:  Cooter Snoozer, Two Minute Ride, Stunt Cock, Semen After Ass, Titney Spewston (Eager 4 Beaver), Rimjob Ringleader the Greatest Hoe on Earth (Miami/Transplant), Granny Groper, Celine Ding Dong, Anticock, cockmonkey, Emergency Medical Tits, Dead Swedes, Just Mary Jo, Orgasm Banshee & Private Pooper the dog (sure hope I got that right last time, since I didn't change it for this one)
Date:  Monday, July 10, 2017.  6pm.
Last time these two hares got laid laid a trail, it was a shitshow.  Well, let's be honest, it started out well, and then there was the forest debacle and they got lost and so did everyone else and what was supposed to be a mildly shiggy trail ended up being some major bushwacking (and not the kind with a razor blade and lady bits, for sure).  Needless to say, they set the bar low for this trail.
We met up at HCC, and after some introductions and marveling at the size of the pack (yeah, sometimes size does matter, and this one was big.  Like write home and tell, well, not your mom, but someone how big it was).  So there were many comments about size and volume to be heard around the opening circle.  And then the hares left, and I have no idea what was said after that.  Perhaps more comments about the size of the pack, perhaps more about the adorable asses possessed by the hares.  Equally likely topics, IMO.
Anyway, the hares went off (sadly, they didn't get off.  Well, at least not then.  Maybe later by I'll never tell, I'm not that kind of girl).  There were a few YBF's and false trails to be found, and it is my understanding that they all were found.  Score one for the hares.  We found our way back behind the school into the woods and trails there.  There was apparently a large porcupine on trail, but sadly the hares did not know he (or she) would be there, so we didn't incorporate them into the trail.
The first beer check was laid and the hares ran off to await the pack at the shot check.  There were a bunch of rusted vehicles way up in the woods, and the original idea was to serve Rusty Nails at that location.  The drink, dodo, not actual rusty nails – that would be gross.  Also, we'd prefer not to have anyone come down with Tetanus on our trail.  Apparently, Bartender #0069 tried the recipe for Rusty Nails and decided it was too gross even for hashers.  It didn't meet the low standards we set for ourselves, which is saying something.  So instead of Rusty Nails, it was some type of deceptively smooth Jungle Juice on tap, which was way stronger than it tasted.
The hares waited too long to leave here, and we're also convinced that a reasonable cranium start was not given.  Also, we're slow.  We weren't quick enough (or smart enough) to put an extra check or two that would have allowed us to scamper off unsnared.  And so, sadly, the hares were snared. By 2MR.  Sigh.
We made it eventually to the second beer check, and after getting smarter and putting a boob check in at the last minute when there were only boys getting close, made it to the end of trail without getting snared again.
Sadly, closing circle was almost dry, because we did not have enough beer for the size of the pack.  There was much sharing of beverages, and some folks had water instead of anything delicious.   (Did I mention how big the pack was?  It was YUGE.  Seriously yuge.  And it was the best pack.  We had the best pack that night.   The press wouldn't tell you that, they'll just lie to you about it.  But it was yuge.  And the best.)
Best part of the trail for the hares is that we didn't get lost.  We were (and we remain) inordinately proud of that accomplishment.  Worst part of the trail was we ran out of beer.  I'm sure there's a punishment for that somewhere, but maybe it was balanced out by the fact that we didn't get lost?
Everyone had to go separate ways, so there was no on-after to be had.  We did indeed have fun, and you totally should have been there.
Respectfully,
Tasty Topple
PS.  Did I mention the size of the pack?  Bigly.  So bigly.
HVH3 #343
Coming Soon
HVH3 #344 | Sink or Swim #5

cockmonkey's log, beerdate 9.17.2017
Start: Kellogg Hill Rd, Hatfield
Hares: Orgasm Banshee & Two Minute Ride
Pack: Suckit Wrench, cockmonkey, Big Piles, Emergency Medical Tits, Butterknife Buczechi
"There is no I in Team, but there is in Penis." – Emergency Medial Tits.
Well, yesterday there was a Juggalo March in Washington, DC. Today we had a clown themed hash. These two things were actually unrelated.
Anyways. Trail. We had one. It was gorgeous out and a great day to get all wet. I'm also happy to report no one was killed by a motorboat.
Highlights of the trail included watching people attempt to put on clown face paint, pickles, EMT as a kayak figurehead, and a funeral/memorial service. Yeah, that wasn't awkward to come across as we were ending trail.
Well, the hares got us all wet, trail was (VERY) clearly marked, and balls were all clean. Our First Swimmer In was Suckit Wrench (somehow), Floating Bitch In was EMT, and our Deadman's Float Last was Big Piles.
By the way, have you seen the knife he has on his life jacket? Seems to be a thing raft guides need now. Or so he says…
And yes, we did sing "My Name is Jack."
Other drinks were drunk for use of Nerd Names (EMT, Butterknife Buczechi, and cockmonkey), being "Taint Punched by a Tree" (Two Minute Ride), Losing a beer can in the river (Big Piles), and Failure to adhere to theme (Big Piles, EMT, Suckit Wrench, and Orgasm Banshee).