Hash Trash from 2016
#322
cockmonkey's log, beerdate 2.21.2016
Start: "Yellow Lot 12"
Hare: cockmonkey
Pack: Not Enough Fingers (CVNT), Big Piles, Suckit Wrench, Two Minute Ride, Celine Ding-Dong, Fisted Sister (NH3), Just Lisa (NH3), it's always soft, Semen After Ass, Dead Swedes, Tasty Topple, Just Leeanne (NH3), Virgin Ryan (NH3), Jenny Cougar Melon Cans (CVNT), Altered Boy (Syracuse H3), Virgin J (or "Vee-jay")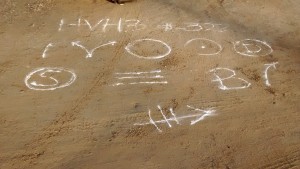 Well, I'm not sure if it's a good sign or a bad sign if we haven't even started and we've already seen the police and the fire.  But it's something.
Regardless, it was a beautiful day for a trail and there was a lot of you beautiful thirsty wankers (including a variety of virgins and visitors).
For various reasons this tour of campus was pre laid with the beer checks looking a lot like the hare's car for some reason.  So introductions were spoken, warm up flailed through, and the pack set off.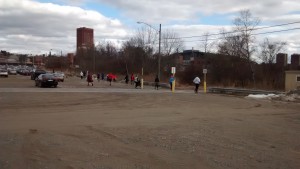 All through campus trail went, with lots of unnecessary loops and twists, even a YBF.  As for the first beer check everyone but Suckit Wrench went the longer, steeper, more unnecessary way (trail actually went the easier way).
At the second beer check Just Lisa claimed that ladies could tea-bag, which set off a whole discussion about the exact nature of tea-bagging.  Ultimately it was settled that testicles are needed for tea-bagging, but that she could always clam-bag.
From there the pack finally detoured into a non-urban area and were rewarded with their favorite type of checks (besides beer checks), with a surprising amount of lost for such a short stretch, but eventually they all made it out.
Circle was led by Big Piles (poor wanker).
And the hare!  Feedback ranged all over the place.  Suckit Wrench was proclaimed Two Minute Ride's savior, but the shortage of police was bemoaned and the plethora of of locations to comfortable pee was praised.
As for virgins, we had a visiting virgin (woo) and a local.  Turns out that Virgin Ryan is decent at math but would definitively NOT help his Uncle Jack off.  Virgin J just wants to know where the bus is going, and thought that we were asking him to strip when shown the dollar bill.  All well and good, but then Big Piles messed up and had to join them for the down-down.
Tech on trail (and in circle) brought in Dead Swedes, Tasty Topples, Just J, and Just Lisa
FRB & FBI: Just Ryan and Just Leeanne
DFL: Suckit Wrench (kindly joined by Two Minute Ride, who's fault it was)
Just Lisa and Fisted Sister were having a great old time on their own, as were several other parties.  So Just Lisa and Fisted Sister (with Just J in the middle) were called in, and joined by Not Enough Fingers, Two Minute Ride, and Semen After Ass.
It was getting cold and circle was distracted.  So we wanted to wrap it up fast.  Visitors were pulled in, and I'm not sure what that song was they were singing, but sure, we'll call it a song.  Then Altered Boy offered a recognizable song in the form of S&M Man.
Semen was eager to pass on the hash shit and made a nomination for Celine Ding-Dong for always smoking during circle.  However, she had to come in and cleanse it first, and after that nominations got sidetracked when Suckit Wrench falsely accused Semen of forgetting the hash shit… to which Semen reminded Suckit that she didn't forget it… because he was trying to take it.  Guess who ended up with the hash shit?
#323
cockmonkey's log, beerdate 3.6.2016
Start: 12 Reservation Rd, Mt Tom Reservation
Hare: Semen After Ass & Two Minute Ride
Pack:
HVH3: Big Piles, Suckit Wrench, Celine Ding-Dong, Just J, cockmonkey, Taint Here, Just Shannon, Tasty Topple, Stunt cock
NH3: Fisted Sister, Just Lisa,Tea-bagger, Lewinsky Sticks
Boston: Friar Fuck
I have to say, probably one of my favorite trail tags ever.  Who doesn't love some wood?
We pounded that trail long and hard.  And fast.  Signage indicated we'd be locked in if we took too long.  Beer at gorgeous scenic locations and vodka soaked gummi bears make for happy hashers.  nomnomnom.
As it turns out, the rumors of the gate locking were greatly exaggerated.  But we found that out after a great migration to outside just to play it safe.
Feedback to the hares:
first time ever used Facebook as a whistle! (Friar)
appreciate their boycott of Trump's white flour policies
too many stairs according to a fitbit
FRB: Teabagger
FBI: Taint Here
DFL: Friar Fuck
Visitors: Friar Fuck, Lewinsky Sticks, Teabagger, Just Lisa, Fisted Sister.  Just Lisa and Fisted Sister did weird butt rubbing thing and overrode Teabagger's attempts to sing.  But I guess it works.
Backsliders: Stunt Cock & Taint Here
Hares were called in for putting circle next to the highway, and then for marks not in chalk talk.
And let's take care of the hash shit while we still have beer!
Nominations: Celine for always smoking in circle, and Two Minute Ride for shitty trail and bringing Bernie on trail.  Short version: Celine is now a very happy holder of the hash shit.
#324 | Zombie Jesus Day Trail 38
cockmonkey's log, beerdate 3.20.2016
Start: 401 Main St, Amherst
Hare: cockmonkey & Suckit Wrench
Pack: Tasty Topple, Virgin Phineas (woof), Not Enough Fingers (CVNT), Dead Swedes, Rage Against the Foreskin, Two Minute Ride, DeciBelle, PigFucker, Willy Wanker.
Well, better late than never, right?
This trail was a lesson to the hare, in that 1. trust that the Halve Mein crew will show up for the Zombie Jesus day trail and 2. learn to read, Willy did RSVP.
It may have been the first day of spring, but the weather couldn't decide if it was spring or winter.  The first beer check was clearly a favorite location for frequent underage drinking if the observed detritus was to be trusted, and the second beer check was at the scenic location of right next to a porta-potty (that's how you know the hare really does care about you).  The second beer check also featured Lovecraft Narraganset in lurid pink & green cans.
Next game the post-apocalyptic easter wasteland.  By that I mean a basket of nips and a wreckage of easter eggs along a clear cut passage in the woods and mud.
At circle, clearly the trail was declared variously shitty.  FRB went to Piggy, FBI went to DeciBelle who was joined for reasons by Two Minute Ride, and DFL was a party with Foreskin, Fingers, and Swedes.
Accusations ran amok, Racist Behavior, Birthdays, Dressed for Theme, Laying Eggs in Circle, Lost Shit, Moving Away, On Event Tag, and more.  We even named Virgin Phineas "Labrigoat" and texted Granny Groper a photo of DeciBelle lickiing a beer can.
As for anything else, doesn't a picture say a thousand words?  So here's my submission: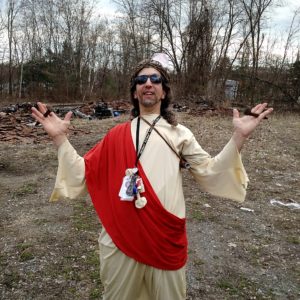 #327 | Cherry Poppin' Hash
cockmonkey's log, beerdate 6.20.2016
Start: Tasty Topple's abode
Hares: Tasty Topple & Just Shannon
Pack: Big Piles, Suckit Wrench, cockmonkey
Clearly we went all in on this trail. Or something. We couldn't remember the trail # so it was designated "threesome-thing" which worked for us.
Now, I know we're supposed to be assholes when evaluating trails. But you know what? It was a pretty well done virgin lay. Also, capital choice for drinks by the hares. Way higher quality than we were expecting.
The actual breakdown:
Start to first beer check: fantastic lay
First beer check to second: wtf lost hares
Second beer check to end: lovely weather for a death march.
Circle was short and sweet (and by that I mean lose and disorganized). Much fun was had by all.
#328
cockmonkey's log, beerdate 7.4.2016
Start: 79 Batchelor St, Granby
Hares: Two Minute Ride & Celine Ding-Dong
Pack: Suckit Wrench, cockmonkey, and Old Cockwatcher (Syracuse)
It's been a while since we had a trail with no assfault, so this was a lovely change of pace.  Too bad everyone who said they wanted some afternoon delight on 7/4 didn't show.  That being said, Two Minute Ride was surprisingly mobile considering his ankle, and we had a visitor!
Quite lovely weather (bright, sunny, hot), if you're into that sort of thing, in some lovely woods.  Trail had some blood, but mostly from mosquitoes.
When we called our visitor into the circle she offered a joke.  Unfortunately we knew the punch line, which then led into a discussion of regionally known jokes and in particular, dead baby jokes.
Trail was rated "well marked" but "more crooked than a duck's penis."  I suppose it's worth mentioning that we talked a lot about ducks on trail.
#329 | Big Piles Memorial Hash Crash BASH #6
cockmonkey's log, beerdate 7.16.2016
Start: 210 Old Farm Rd, Amherst
Hares: Suckit Wrench & cockmonkey (beer car)
Pack: Two Minute Ride, Nipples Erectus (PooF), Bleeps Sweeps and Creeps (PooF), Dead Swedes, Stunt Cock, Just Lida, Orgasm Banshee, Big Piles.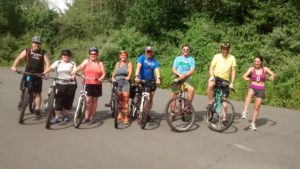 Some various last minute ruckus at the start of trail. Getting more beer (and water), plus a bike with a suddenly leaking tire. Yes, Orgasm Banshee had a hole in her rubber and all the men gathered to help fill it.
Well, despite valiant efforts, things just got sloppy and in the end Orgasm Banshee went to people who actually knew what they were doing.  Fortunately, after help she was able to join us at the second beer check.  Between the first two beer checks Two Minute Ride almost snared the hare, but he paused and that skinny fucker rabbited out of there.
There was an improvised 3rd beer check, which is an advantage of having a beer car.  Turns out that was a good thing b/c it was a bit of a stretch between the 2nd check and the end.  It made for a good regrouping point, and hydration is always good.
Eventually we all got back in the same place for circle, but Stunt Cock had to go fill in somewhere else.  I guess that comes with the name?
Feedback on the trail included:
not enough hills
fucking thorns
not enough stairs
"I got dirty"
downhills made up for the uphills
"these are not the downhills you are looking for"
"The AC in my car was great."
The FRB was Stunt Cock… and since he has left, Two Minute Ride was the Stunt Drinker, joined by FBI Just Lida and DFL Dead Swedes.
Bleeps, Two Minute Ride, and Suckit drank for blood on trail, and then Big Piles drank for not crashing (but he did find the paperwork for his neck brace in his car).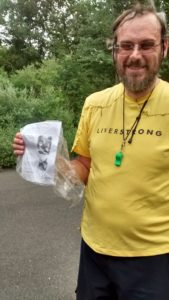 Other things that came up Tech on Trail/Live Scouting (Dead Swedes and Suckit Wrench), Declining to snare the hare (Two Minute Ride), Bike Malfunction (Orgasm Banshee and Just Lida), First BPMHCB (Orgasm Banshee, Nips, Bleeps, Dead Swedes, and Just Lida), Pissing during circle (self-accusation, Suckit Wrench), and Lost Shit (Suckit Wrench), plus Visitors (Bleeps and Nips) and Birthdays (Two Minute Ride and cockmonkey).
#333
cockmonkey's log, beerdate 9.11.2016
Start: O's
Hares: Stunt Cock & Orgasm Banshee
Pack: Leonardo da Pinki (visitor), Virgin Andrew (visitor), Suckit Wrench, cockmonkey, Dead Swedes, Not Enough Fingers, Big Piles, Tasty Topple, and later a surprise shirtless virgin.
Trail started out with some beer and a good showing of red, white, and blue. Fortunately none of it flashing cop lights. Also a wonderful moment witnessed by the pack while one hare explained the trail to the other. Such a special moment to witness. I have no explanation for the matching big red (rocket) trucks.
The hares should be pleased to know that the pack made some assumptions about which way trail would likely go early on, and the pack was wrong. So wrong. (Sorry).
But off we went, skirting apartment complexes and what passes for civilization out here, in search of beer! Fortunately, we found it. Whistles needed to be whetted before the long, hard, erect trail ahead of us. Well on the way there were some wrong turns by some and others of us hung out with a new friend (a newt). Also your humble scribe may have nearly shat herself when someone announced they were running up behind us and passing. But we thought nothing of it, simply desiring more beer and enjoying the view when we could
Perhaps we were too grateful for the beer once we found check #2. For we tarried so long the hares called from the end wondering where the fuck we were (drinking beer, duh).
Well, finally we emerged to the waiting hares to see a rather splendid costume change by one Orgasm Banshee, now displaying a Wonder Woman bikini. Also, the stealthy shirtless jogger was there! And why not, after all he did basically run trail. Not only that, but he joined us for circle and there was much rejoicing. Huzzah!
FRB: Suckit Wrench
FBI: cockmonkey
DFL: Not Enough Fingers
We also called on our backsliders, visitors, and crashes, and when we closed out circle some novel (to me at least) takes were made on both the men's and women's verses of Swing Low. Then we questionably piled into the few vehicles present and made our way back to start, and then on to the On-After to put meat in our mouths (or whatever you put in your mouth if you don't eat meat).
#335
cockmonkey's log, beerdate 11.20.2016
Start: Reservoir Rd, Sunderland
Hare: Big Piles
Pack: Stunt Cock, cockmonkey, Suckit Wrench, Tasty Topple, Just Hannah (CVNT), Jizz Rag (NH3), Fisted Sister (NH3), Friar Fuck (NH3), Super Chicken, Butterknife Buczechi, Emergency Medical Tits
Big Piles is getting old! Let's make him hare a trail for his birthday!
Also, no clue what was actually going on between Just Hannah and Tasty Topple, but we took pictures!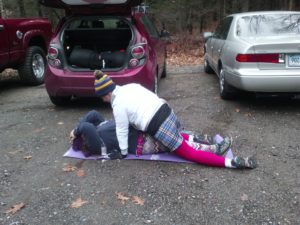 Trail itself covered some semi-familiar ground for the longer established local hashers, but was far less familiar to the others around less long and the visitors. However "semi-familiar" more meant if we got lost we'd likely be able to find civilization again, not that we knew where to find the beer checks.
(We DID find the beer though)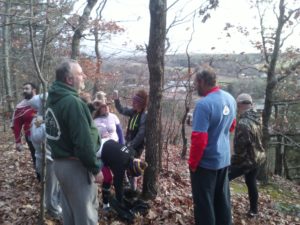 Circle started off well with Just Hannah bringing Fireball.
Butterknife Buczechi enjoyed the white marks on white trees (Stunt Cock replied with "what trees?"), Fisted Sister felt the trail lacked enough wet leaves, and cockmonkey just was happy not to sprain her ankle.
FRB: Stunt Cock and Suckit Wrench
FBI – Emergency Medical Tits
DFL: Friar Fuck and Fisted Sister
Er, what with the name alliteration there?
Visitors blessed us with their version of God Bless My Underpants, which left cockmonkey confused when she heard "cum stains, from my piss"… turns out the line was actually "from my kiss." That's good, otherwise it sounds like something medically might be needing attention. So thank you for clearing that up Friar Fuck, Fisted Sister, Jizz Rag, and Just Hannah.
Hash Crash went not to Big Piles, but to Friar Fuck for a tumble and Butterknife Buczechi (with stunt liver EMT) for sack-tapping himself. Then Jizz Rag joined them for offering up a song then having nothing… and by Big Piles for repeating a verse.
We wrapped up with some more accusations, points of order, a toast to Blow Hole, and announcements.
#336 | Krampuslauf
cockmonkey's log, beerdate 12.4.2016
Start: Roadhouse Lot, Noho
Hare: cockmonkey
Pack: Suckit Wrench, Tasty Topple, Big Piles, Just Hannah, Virgin Sean, and Dead Swedes
This was a trail of many things. Of self-chaining hashers, of Pokegyms in graveyards, of suspicious landlords, of ginger brandy, and of random muggles dressed as fruit. Yeah, I got nothing on that last one.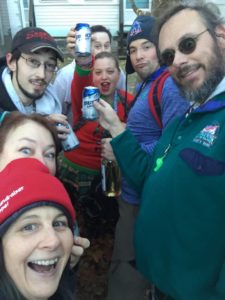 Some happy fucking hashers. Also, some "ginger hell":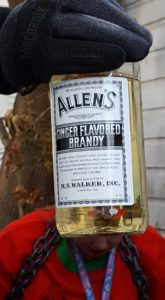 Another thing the trail featured was plentiful places to pee, including a slight detour on trail to the porta-potties still set up from the Hot Chocolate run that morning (I have no regrets about the Song Check, except it seems you wanks largely missed it).
Also exciting, Just Hannah was able to actually drink at all the drink checks. Huzzah. Yeah, I totally meant to do that.
FRB: Suckit Wrench
FBI: Dead Swedes
DFL: Big Piles
Just Hannah made Virgin Sean cum (she also brought Tasty Topple some wood), and well, we all know what to do with Virgins. I'll give him this, he was a eager fucker. We couldn't get him to stop drinking his down down beer long enough to explain what the hell he was supposed to do with it. He was also admonished for how much time he spent playing with his (Poke)balls on trail.
Various other accusations came out, but of most importance we got to celebrate Just Hannah's analversary. But it was cold and we were hungry, so we went off to Sakura. Whee!