Whistles, Stickers & Shirts, Oh My!
We have a selection of sundry items to enhance your hashing experience or to simply show your hasher pride.  The best way to acquire said treasures is to corner Big Piles at one of our trails.  Also, I don't have photos/images of most of our haberdashery, so it's just better to talk to Piles anyway about loot.  Things we don't have pictures of include hash cups, HVH3 patches, whistles, stickers, and possibly some stuff we're forgetting.
10th 15th Anniversary Shirts!
Holy shit, we got our shit together!  Get your t-shirt!  There might even be a sweatshirt or two extra still available.  T-Shirts $15, Sweatshirts $30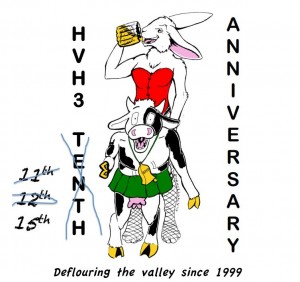 HVH300 Patch
THIS IS NOT SPARTA!  Patch for the 300th running of the Happy Valley Hash House Harriers.  Great event (at least what we can remember of it).  $5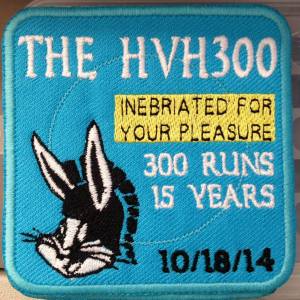 Hash Sack
We made these up for our Green Dress Run, and have a few left.  They work great as a flour sack, or for carrying shit on trail when you lack pockets.  Basic cinch pack with extra zippered front pocket.  $5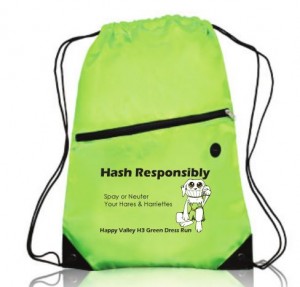 Happy CVNT Valley Patch
So we've got a bit of a swinger relationship with the CVNTs up north, to the point where sometimes we're not sure which kennel is certain wanker's home hash.  We even sometimes put on trails as a join effort.  For the time being we still have patches for those hashers that are cozy with both kennels.  We also have regular HVH3 patches, but no photo of them b/c we're wankers.  $5